USGA agronomist, Adam Moeller, discusses how less is more by identifying out of play areas that can be effectively managed without affecting playability or pace of play while saving time and money on mowing, fertilizer, water, pesticide and other maintenance practices.
CLICK HERE TO READ THE FULL ARTICLE »
---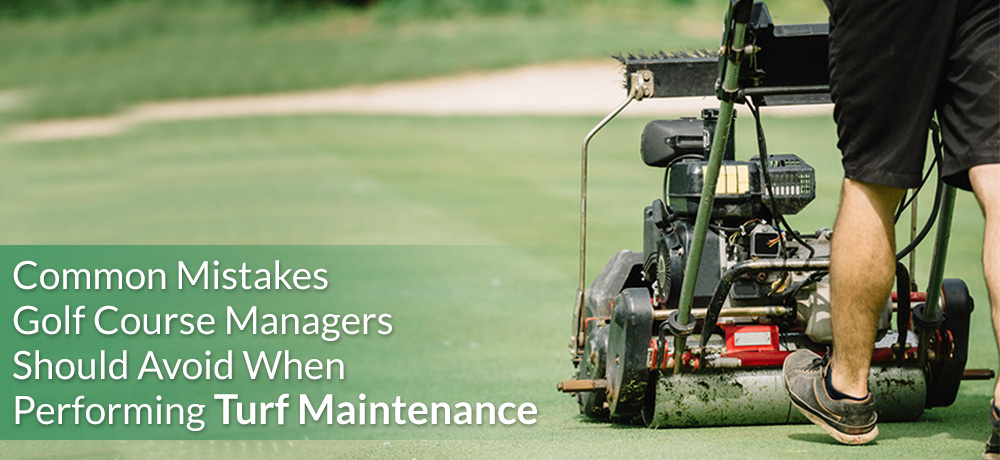 Golf courses and other sports turf management and maintenance procedures can be environmentally unfriendly. To ensure your golf course is following best practice guidelines to keep our environment safe, avoid these common mistakes when performing turf maintenance.
CLICK HERE TO READ THE FULL ARTICLE »
---
Golf Courses and Water Conservation in California
This article and the related video focus on the efforts of golf courses in California to reduce water consumption by reducing the amount of turf on the golf course. It also highlights the efforts of the local Coachella Valley Water District (CVWD) to provide golf courses with a rebate program for every acre of irrigated turf removed from the golf course.
CLICK HERE TO READ THE FULL ARTICLE »
---
Water is the single most important natural resource on the planet, without water no life forms would exist. Water plays a major role in our environment as it supports all energy and food cycles. Without water, sanitation in human society would be impossible
CLICK HERE TO READ THE FULL ARTICLE »
---
Oslerbrook Golf and Country Club, located in Collingwood, Ontario, Canada, was built in 2004 under the watchful eye of superintendent Jason Honeyball. Sustainability was a key consideration in the design and construction processes for the new golf course. One of its founding principles included the following statement:
"…the club should be a leader and maintain environmental morals, integrity and standards and should be sustainable indefinitely…".
CLICK HERE TO READ THE FULL ARTICLE »
---
There may be no one that symbolizes the modern golf course superintendent like Jason Honeyball. On a daily basis, Honeyball is a businessman, an architect, a scientist and a dozen other profes-sionals. There is one moniker, however,that he would probably put at the top of that list; environmentalist.
CLICK HERE TO READ THE FULL ARTICLE »
---
By Jason Honeyball and research update Article by Mike Kenna from USGA
"I really liked this article from Mike Kenna because it speaks to all of us golf course superintendents. We are so dependent on our water resources to help maintain a healthy environment for our golf course and surrounding community."
http://www.usga.org/course-care/turfgrass-and-environmental-research/research-updates/seven-things-you-can-do-to-reduce-nutrient-loss.html
The USDA Agricultural Research Service evaluated cartridge filters installed on drainage lines to reduce the amount of phosphorus entering a lake.
CLICK HERE TO READ THE FULL ARTICLE »
---
En garde derived from a French word means to be on defence and always taking the top position for action. Draingarde® plays an important role in preventing point source pollution through drain covers and catch basin covers.
CLICK HERE TO READ THE FULL ARTICLE »
---