«&laquo&nbspBACK
Common Mistakes Golf Course Managers Should Avoid When Performing Turf Maintenance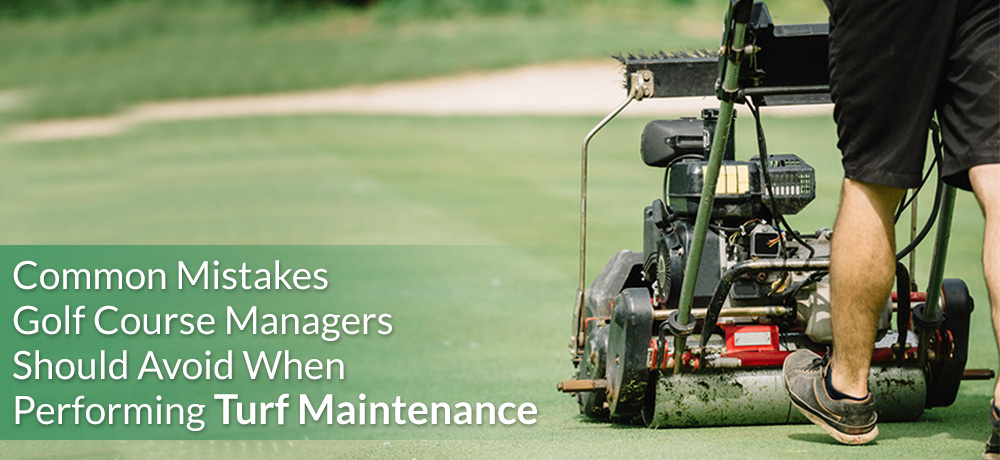 Golf courses and other sports turf management and maintenance procedures can be environmentally unfriendly. To ensure your golf course is following best practice guidelines to keep our environment safe, avoid these common mistakes when performing turf maintenance.
Not taking appropriate measures to prevent point-source pollution. Many of today's golf courses are equipped with extensive drainage systems to take excess storm and spring melt water off the turf and collect it for future use. These drainage systems use catch basins located throughout the golf course to "catch" the water that follows the drainage contours on fairways, greens, and tees. The catch basins have covers to prevent people, animals, and machinery from injury and damage. The covers have holes in them to allow for the water to enter the catch basin and the drainage system. These holes also allow pesticides and fertilizer, as well as organic matter from topdressing, aeration and other golf course cultural practices to enter the catch basin and the drainage system when these products are applied, and the cultural practices are implemented without some form of catch basin cover.
Covering the catch basin with an effective product would prevent point source pollution from pesticides and fertilizer and would prevent the clogging of the drainage system due to deposits of topdressing material, aeration cores, and materials that result from other such practices. To be effective, a catch basin cover would need to be durable, easy to apply, reusable, easy to store and work well. Draingarde provides that solution. Research at Michigan State University indicates that Draingarde reduces the amount of pesticide and fertilizer entering the drainage system during application by 93%. Draingarde colour-coded covers are made from a durable plastic formulation that will last for several seasons. The distinctive colours make them easy to retrieve following applications or cultural practices and the stackable design allows for minimal space requirements for storage. Catch basin covers are a best management practice to reduce or eliminate point source pollution and reduce drainage system maintenance.
Using DIY catch basin covers. Turf managers may have improvised by using DIY versions of catch basin covers to try to achieve the results demonstrated by the Draingarde research conducted at Michigan State University. The patented Draingarde design allows for the applied product to be captured and either reused or applied to its intended location, the turf! Draingarde catch basin covers can be easily cleaned and stored, they are easy to use and to retrieve following application and won't damage equipment in the application process. Using Draingarde covers is good for the environment, saves time and money and limits the risk and the liability of the golf course when applying pesticides and fertilizer.
Not flagging sprinkler heads. Before aeration, topdressing or verticutting, staff must flag all sprinkler heads to avoid damage. Following these procedures, the flags must be removed and the sprinkler heads, in many cases, must be thoroughly cleaned to prevent damage and malfunction. Draingarde catch basin covers (smaller sizes) are made to fit over sprinkler heads to protect them from damage and to reduce the time required following these processes to clean in and around the system heads. They also prevent staining of sprinkler heads and yardage plates that can occur when using products containing dyes thus eliminating the need for staff intensive cleaning procedures and the cost of replacing damaged or stained heads or plates.
For more information about using Draingarde to help maintain your golf course or other sports turf, please visit www.draingarde.com.